Humane Domains
Do more with your domains
Every domain registered sends $1 to St. Jude Children's Research Hospital
Check out some of the amazing stories that occur every day at St. Jude!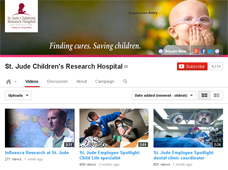 ---
We are proud to support St. Jude Children's Research Hospital as a Partner in Hope. St. Jude treats over 7,000 patients a year at no cost to the families. Their efforts have vastly improved cancer treatments around the globe, proven in part by helping increase the survival rate for acute lymphoblastic leukemia (A.L.L.), the most common form of childhood cancer, from 4% to 94% thanks to research and treatment protocols developed at St. Jude!
With each Humane Domain registration, you are contributing to further advancements in cancer treatment and bringing the world closer to a cure. We encourage you, if you support St. Jude's mission of treating the needy and finding a cure, to please share this with others and visit their website to discover more ways you can help.
---
Why "Humane Domains"?
We believe in making the world a better place. We may not offer every tld, or the latest buzz-word in hosting, but we do offer our customers consistent low prices and friendly customer service. We wanted to give you an opportunity to make the world a better place too. Our domains are already cheap, why not make them charitable?
How is a Humane Domain different than any other?
It's in lives, not the internet, that these domains differ. The Humane Domain registration system simply adds a one-time, $1 donation to your purchase. Your domain will function the same as any other domain would.
Can I register multiple Humane Domains at once?
You bet! Either use our Bulk Registration system and click "Yes" when asked if you would like to donate $1 per domain, or use the form above and on the following page use the "Search for Additional Domains" function to add domains to your order.
Can I donate by renewing or transferring a domain?
Yes you can! During your checkout, you will be asked if you would like to make a $1/domain donation to St. Jude. If you do not wish to donate for every domain, you can remove as many donations as you wish at the Order Details page.